When made with the ingredients listed, this is a very colorful salad. The choice of vegetables and their relative quantities are arbitrary and always varies depending on what is on hand.
---
1/4  lg    cabbage, green (Note 2)
1/2  med   pepper, green
1/2  med   pepper, red
1/2  med   pepper, yellow
1/2  lg    onion, sweet (like Vidalia, Maui, etc.)
1    med   carrot
3    TBS   slaw dressing (Note 3)
Slice the cabbage very thinly and cut into 1/2 inch lengths. Mince the peppers and onion. Grate the carrot. Cover and chill until ready to serve. Toss well with the slaw dressing just before serving.
Serves 4-6.
---
Notes: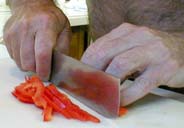 1. Many people are daunted by cutting vegetables. I learned to use my small Chinese cleaver over 30 years ago (Thanks, Mrs. Moy!) and can quickly process the cutting by hand. If you don't like using a knife but don't mind the cleanup, use a food processor. Use a grater as a last resort since its dull blades "bruise" the vegetables (except carrots) making for a limp, watery slaw.
2. Always choose the densest head of cabbage available (most weight for size).
3. The dressing is what really makes this slaw, but don't use too much.
If you can find it, use T. Marzetti's Original Slaw Dressing. Unfortunately, like so many other food products, it is no longer available in DC metro area grocery stores. It also made an excellent dip for an appetizer vegetable platter.
Or use my Sweet and Sour Cole Slaw Dressing recipe.